Suppose you are a big fan of adventures like skydiving, mountain climbing, scuba diving, river rafting, and other outdoor activities. Or you love exploring beautiful cities and countries while documenting your amazing experience. You should endeavor to have an AKASO Brave 7 LE camera to perfectly capture your pictures and video.
AKASO Brave 7 LE 4K action camera has several badass features and accessories worth exploring. It is tiny and pocket friendly. You can keep it in your jacket pocket and use it anytime. It is 6.3 x 4.1 x 3.1 centimeters and weighs 132 grams with the battery.
All thanks to its multiple attachment options, you can easily place it on your helmet, bicycle, snowboard, or surfboard to aid in steady recording from various angles. You can use the AKASO Brave 7 LE 4k action camera during winter and summer without stressing of it will spoil or not.
The AKASO Brave 7 LE 4k camera is unaffected by dust, water, rain, or muck. It is shielded by a colorful array of housings designed to survive various weather conditions.
The cam is waterproof up to 10 meters without additional housing. It has a 1,350 mAh lithium-ion long-lasting battery located under the rather stiff flap on the bottom of the case, and a MicroSD card with a maximum storage capacity of 512 gigabytes that can be inserted on the side.
The Brave 7 4k camera beats every other everyday camera you might think of. To prove that this is not a blab, you can kill your thirst and anxiety with its mouth-watery features.
Remarkable Features and Accessories of Brave 7 LE Action Camera
1. Waterproof Action Camera without Case
With a Brave 7 LE 4k action camera, you can take the realest pictures from every angle on the water without the fear of spending extra money on repairs. It is equipped with an IPX7 water-resistant body and is designed to survive different weather conditions. Splashes, sprays, spills? Not a problem!
2. Convenient Dual-Display
Another amazing feature of the Brave 7 LE 4k camera is its revolutionary dual-screen design. The front display is 1.4 centimeters, and the rear touch panel is 2.0 inches.
The rear screen gives you a wide and clear view of the world or the image you want; The front screen permits you to frame yourself or take a selfie.
Simple put, "The rear screen allows you to see the world, and the front screen enables you to frame yourself. Just get yourself on the front screen and say Cheese."
3. Shoot 4k Video & High-Quality 20MP Photo
AKASO Brave 7 LE 4K action camera photos are saved in JPG and lossless raw data format DNG. You can choose to view the camera angle among 170, 140, 110, and 70 degrees.
Also, you can adjust the ISO between the range of 200 and 3,200 by activating WDR (Wide Dynamic Range). However, the overall exposure in shots can be optimized.
Brave 7 LE action camera also offers voice control for simplified operation. Amazing!!! All subtle details are captured with clarity.
4. Electronic Image Stabilization 2.0
You can always get stable movies from the mountain trail to the rough sea. Thanks to the upgraded EIS system. The EIS system permits you to take a stable picture irrespective of the surface on which you stand or the activity you are doing.
If you skydive or snow dive, the 4k action camera is the best to enjoy your sporting moments. You can make a nice, smooth video without going too crazy.
It removes the flimsy edges of a video and makes it watchable, which is what image stabilization should do.
5. Time Lapse, Slow Motion, Free Accessories, and More
Brave 7 LE 4k camera can film with either 4K30, 2.7K30, 1080p60, 1080p30, or 720p with 120 full frames. It is suitable for slow-motion recordings. The 720p60 and 720p30 are also available. The time-lapse mode permit videos to be recorded for 3, 5, and 7 minutes
Also, Brave 7 LE 4k action camera allows you to manage your camera & footage from smartphones when connected to the camera. The HDMI port assists you to connect to the bigger screen of a television. A 4k action camera costs $149.99.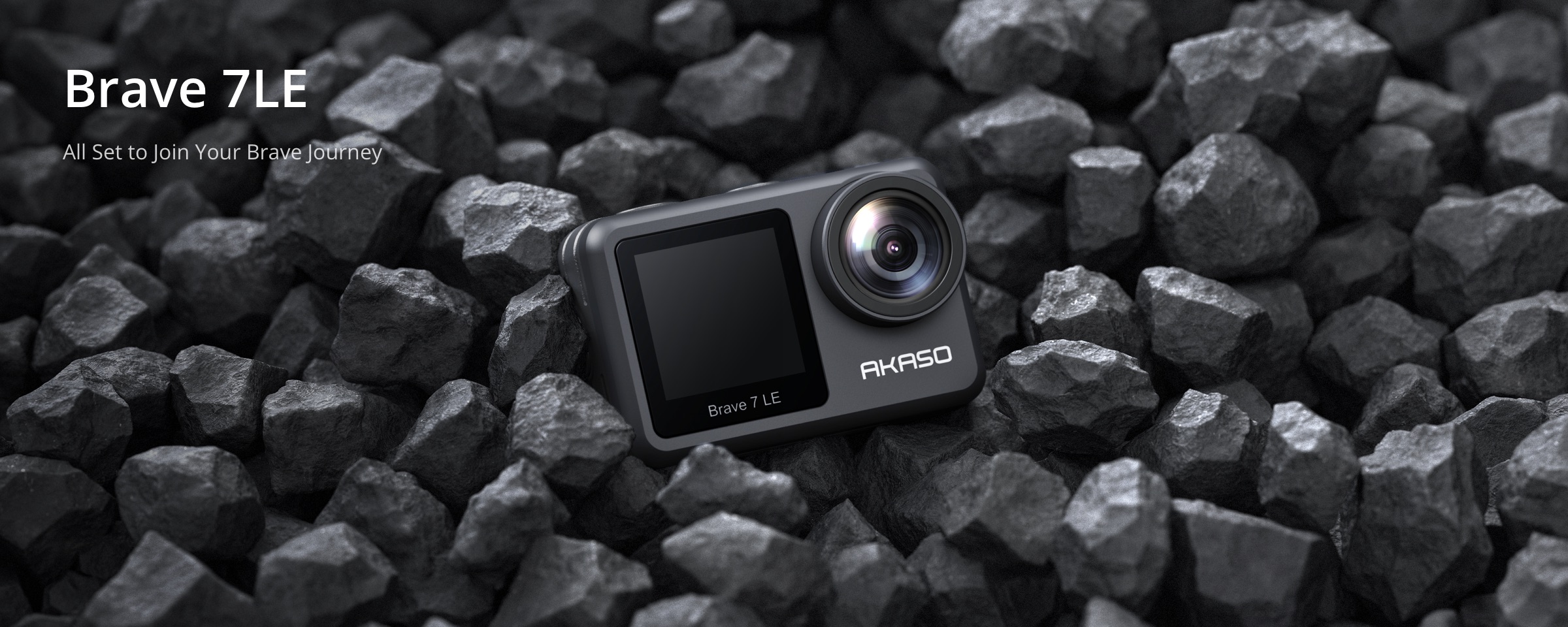 The 4k action camera's carriage case is partly plastic and metal. The front display is 1.4 centimeters and the rear touch panel is 2.0 inches. The case is durable and has a water-resistant nylon shell. Features below make it a necessity to the Brave 7 LE 4K action camera.
High-Density Foam Padded Interior

Perfectly Shaped Compartments for Action Cameras

Comfortable and Supportive Carry Handle

It cost $16.99
7. External Microphone
The Brave 7 LE 4K action camera supports an external microphone (not included). The microphone can pick up sounds that are far or near. For better sound quality, a $9.99 external microphone is recommended for the camera.
8. Windproof Housing Case for Brave 7LE 4k Action Camera
The 4k action camera windproof housing case helps reduce wind noise. Aside from this, the windproof case is made up of high-quality imported sponges., with high density.
The noise reduction sponge filters the external sound layer by layer, giving an excellent noise-filtering effect. It is of high elasticity & strong toughness. It is shock-absorbing and drop-proof. It cost $9.99.
The 4k action camera has unique accessories to assist you in using your camera with ease. It is divided into 2 sections; the 7 in 1 accessory includes a Floating Mount, Head Strap, Chest Strap, and Suction Cup.
Also, the 14-in-1 accessories consists of a WiFi Remote Fastening Tape Wrist Strap, Backpack Strap, Quick Release Clip, Clamp Mount 360, 360 degrees Degree Rotary watch, Mini Retractable Tripod with Foldable Legs(Silver), Floating Hand Grip, Chest Strap, Handlebar Seatpost Mount, Flat and curved surface Mount, Octopus Tether Strap, Vented Helmet Strap Mount, Suction Cup Mount, Head Strap Mount, Suction Cup Mount, Helmet Extension Selfie Arm Kit.
Conclusion
Unlike other modern cameras, a 4k action camera will give you the most sporty, lively, memorable and imaginable feeling. Talking about ready-to-go adventure cameras, talk AKASO Brave 7 LE 4K action camera.
Sign up for exclusive offers, teaching guide, events and more.