Whether you are a professional or a beginner, choosing a career or having a passion for photography rarely goes wrong. Why? Because there are so many places just waiting to be explored. As we know, for every adventure, there comes a need to capture the moments. However, not just any camera can be used to capture these moments.
AKASO action cameras have been around for a while now, yet they only kept improving in ease of usage and experience. These cameras have evolved into the perfect, handy camera that can help you get all your adventures on record. With them being almost inconspicuous and richly equipped with many features, your moments of vlogging, skiing, diving, and much more can be brilliantly captured and stored.
However, it doesn't end there with these creative AKASO cameras. Not nearly, as they come with even more awesome accessories that can help you capture the perfect angle you want. So, allow those golden rays to fall on you, and feel the wind caress your hair while you watch your camera catch the moment without you having to hold it!
Why Do I Need Accessories?
Why? Because the perfect capture only comes when you have the right tools. Accessories help you maximize your action camera to its fullest potential. We at AKASO understand this and hence, the reason we make these accessories available. Why bother holding on to your camera when you can effortlessly get an action camera body mount or head mount to help with your captures?
You can get that swimming motion recorded in as much as you have your action camera head mount accessory in place. Or are you trying to capture your complete profile? The 14-in-1 action camera accessories have just the perfect tools to get you going. With the mini retractable tripod stand, be prepared to enter the world of colors, poses, and beauty. The V50 pro special edition also offers some brilliant accessories. A few are the 360°rotating wrist strap, a floating hand grip, car suction mount, and several others.
Does this mean an action camera is not usable without accessories? No. Action cameras work just fine on their own. However, accessories make your work easier and improve the quality of your results!
5 Tips to Use an Action Camera With 14-in-1 Accessories to Shoot Amazing Footage When Skiing in Winter
Beginner or professional, whichever category you fall into, here is a guide to take you through the tips and tricks about using an action camera with 14-in-1 accessories to shoot fantastic footage when skiing in winter.
Dress the part
You are the number one accessory vital for fantastic footage. As a result, you want to dress ready for the location. Having to battle against the cold can get in the way of your shoots, especially since you will stay in position for a long time to get perfect shots. Your choice of clothing should be very similar to that of the skiers.
Choose the right gear
Your objective largely determines your choice of gear. Not every piece of equipment is compatible or should be lumped along for the shoot. Determine what footage you want and pick equipment that aligns. Are you trying to capture high jumps, slope moves, or a POV shoot? You might want to take along mounts for POV shoots to shoot awesome sports action. Immersive hands-free footage for gear-mounted shots as well. It all comes down to what you want in your fantastic footage.
Snow melts, and when it does, it turns wet, damaging your accessories, so you should get some protective gear. An advantage to action cameras and their accessories is that they usually come built for the outdoors. However, it does not hurt to play it safe.
Controlling exposure
To a large extent, photography is a game of colors and lights. In winter sports, you get a lot of white, especially when skiing has them flying around. It can affect your camera's light meter, which in turn affects the quality of your photos. For sunny days, point your cameras towards the sky but away from the sun. Then key in the exposure controls. For overcast, you should have your EV compensation to +2.
Action speed freeze
You are photographing action. At the same time, your action cameras would do well to capture motion around with your camera and accessories to get the perfect footage quality. For starters, while there are different action cameras, you should opt for one with a fast shutter speed of about 1/1000 sec at the very least. As for the settings for the shutter speed, choose the "S" setting, which handles the aperture while you focus on the speed control.
Understand positioning
Angles make great pictures which means you need to pick the right ones. Even with the best tools and accessories, standing wrong or positioning off focus can mess up your footage quality. You might want to look for ramps and jumps for airborne shoots to capture the perfect mid-motion angle. For winter sports shoots like skiing, a wide-angle lens is recommended. You will need to pre-focus on the spot and shoot from a low angle to cut off the background and catch that split-second jump in the perfect place.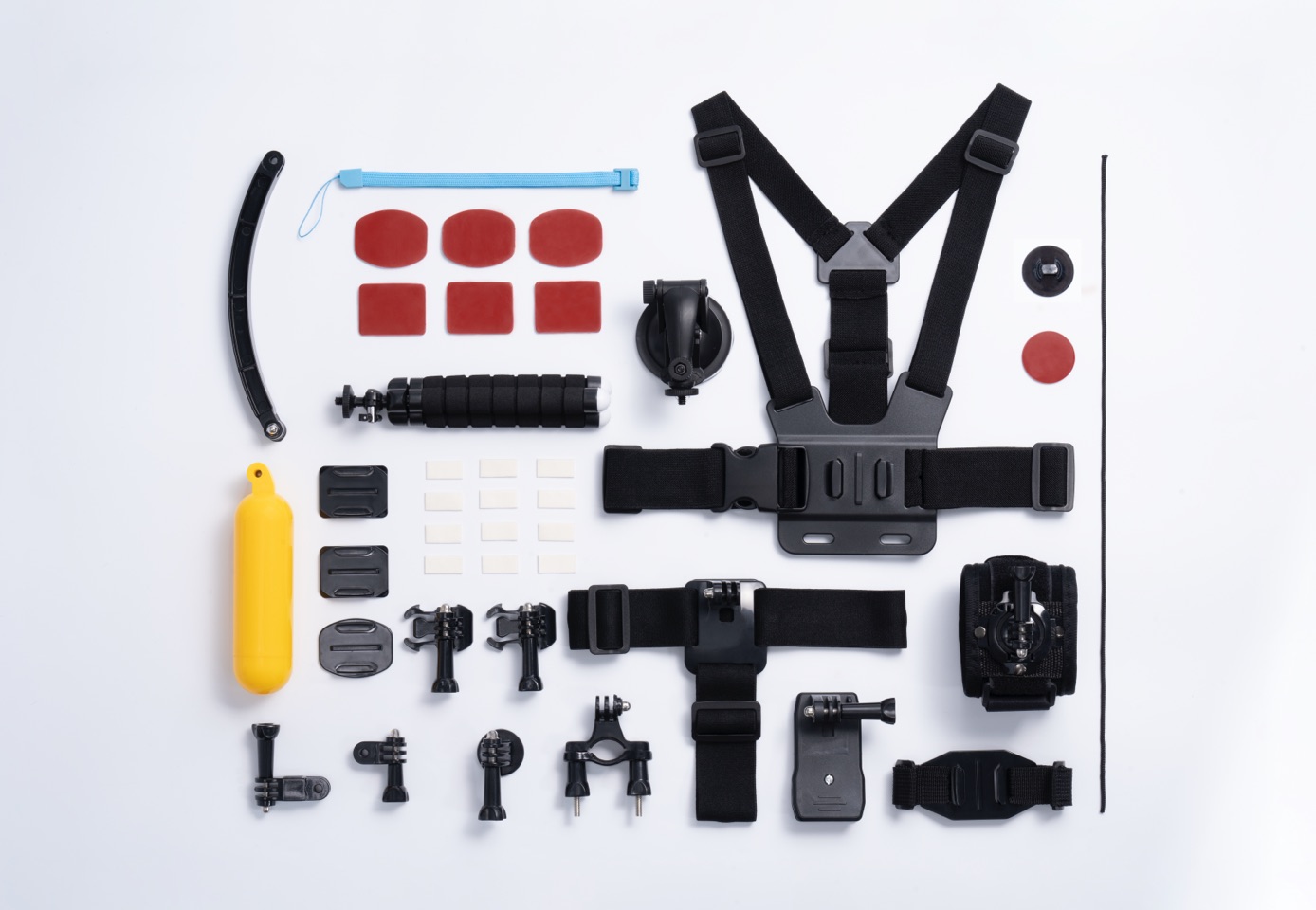 How To set up Camera Accessories
Action cameras are pretty handy and easy-to-use gadgets, but users can undoubtedly get frustrated if they lack the right expertise. Here is how to set up some accessories, especially the 14-in-1 action camera accessories.
360° Rotating Wrist Strap
This accessory is an action camera body mount that helps to fix your camera right to your wrist. All you have to do is connect the camera to the strap and attach it to your wrist.
The Chest and Head Strap
This is good if you plan to take a video of yourself. The action camera head mount is handy during sports, and the chest strap is adjustable to fit any body type. They are pretty easy to manage; to use them, you only have to connect your camera to the head or chest strap first, then fix it to the needed body part.
Bicycle and Car Handlebar Mount
These mounts are worthwhile for taking quality pictures and videos when riding or driving. You can generally use the handlebar mount on your bicycle and the suction mount on your car.
We are sure you've had enough of trying to capture your riding moments by placing your phone on your car headboard, as now the AKASO action camera has the perfect accessory to keep you going.
The Floating Handle Grip And Selfie Stick
These selfie sticks are typically stretchable, and with the AKASO action camera, it gets even better. Your floating handle grips assist with keeping your camera afloat when you are in a water body.
The Mini retractable Tripod
Great for taking complete profiles. To set it up, you should fix your camera to the clamp mount first, then finally attach it to your retractable tripod.
Other accessories
These include the Wi-Fi remote fastening tape wrist strap, generally worn on the wrist, and the backpack strap, which one should fix to your backpack. It's almost inconspicuous and great for collecting back-view videos and front-views.
Accessories are great for random uses and can give terrific results for more professional photography. Whether it is to shoot fantastic footage when skateboarding or catch the beautiful winter scenery as you ski across the ice, these action cameras do not disappoint.
Managing Your Action Camera Accessories
The accessories are easy to manage, and you find them easy to carry around. Most are retractable and easily fold back in to fit a small space. Hence, you shouldn't worry too much about the extra load.
Nonetheless, for a more efficient experience, it will help to be sensible with their use. Indeed, many of these accessories are pretty sturdy, but with appropriate care, you will help you enjoy their use even better. A little clean-up could be good after an outdoor use, and taking extra care to return them to their appropriate space afterward would go a long way too.
Innately, AKASO action cameras focus on improving and advancing users' photography experience, and with these accessories, they've taken a step even closer to the goal. Hence, we hope you let out your inner being, explore the beautiful nature surrounding you and give a vibrant smile as these cameras capture every scene.
Final Thoughts
AKASO action cameras have met many beautiful expectations, and these accessories are here to make the scene even brighter. Don't know how to get started? You could take your first step today by buying an action camera body mount or an action camera head mount, and if it is all the accessories you want, why wait any longer?
Enough with denying yourself the best you can get from your action camera, as AKASO has taken your art one step further for you. So, go ahead and make the best of it!
Sign up for exclusive offers, teaching guide, events and more.